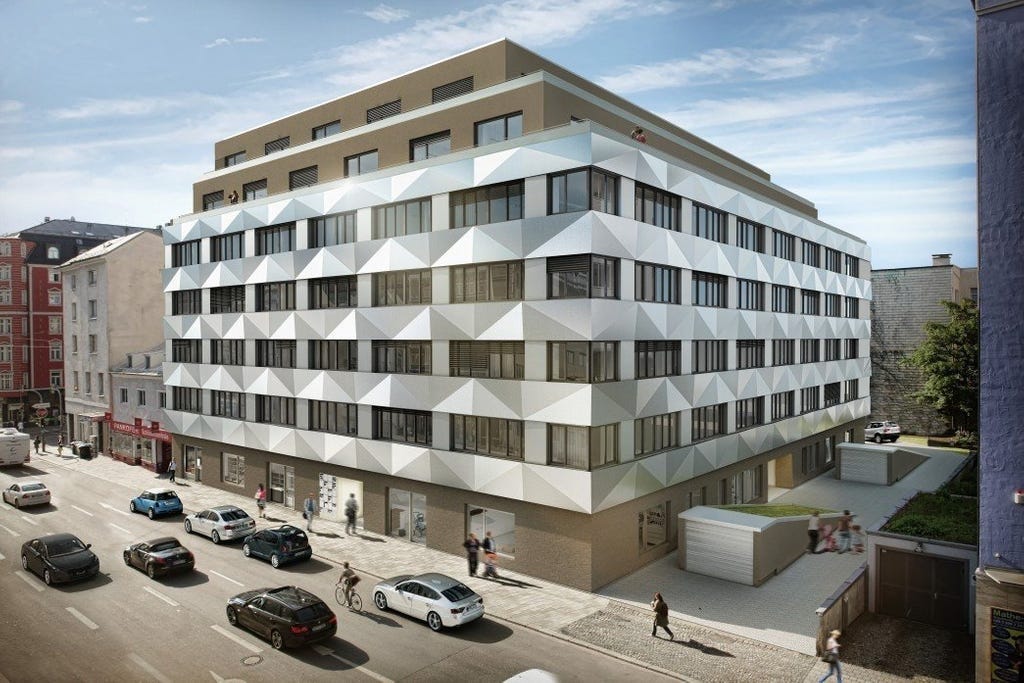 INSPIRATION.
Dig deeper and get inspired.
FRIEDENSTAL BERNAU
NEW DEVELOPMENT IN BERNAU, NEAR BERLIN
Project type: Greenfield development
Description: A total of ​​50,000 m² (GFA) of new residential space has been built in the countryside of Berlin at the "Friedenstal" commuter rail station, a site with excellent access. The incorporation of commercial space creates an outstanding infrastructure that supports ideal quality of life in the new neighborhood.
Project duration: 2013 - 2021
Project status: Inventory
STADTTOR LANDAU
BUILDING PROJECT IN LANDAU IN DER PFALZ
Project type: Conservation of existing buildings with creation of building rights and neighbourhood development
Description: On the former Galeria Kaufhof site in Landau directly next to the main railway station, a neighbourhood development was initiated together with the city of Landau. A new city gateway for Landau consisting of a mix of residential, commercial, retail and gastronomic facilities is to sustainably strengthen the shopping mile at the railway station.
Project duration: 2018 - 2021
Project status: Sold in 2021 after successful creation of building rights
RIDLERSTRASSE 37
REFURBISHMENT PROJECT IN MUNICH
Project Type: Refurbishment and development
Description: An office and industry complex will be developed in Munich-Untersendling at the Heimeranplatz. The office ensemble contains a GFA of approx. 17'500 m² of office spaces, doctor`s offices, authority and social areas. From 2016 onwards, in close cooperation with the city, a redevelopment of the old building and a new building with modern offices is planned, which strengthens the image of the city and extends the existing use.
Project Duration: 2015 - 2022
Project Status: Sold in 2020
NEUE GRÜN 19
REDEVELOPMENT PROJECT IN BERLIN MITTE
Project type: Building replacement and expansion
Description: 4,700 m2 (GFA) of office and residential space was created in a new building that replaces an old Protestant church. A curved service building was added in the court.
Project duration: 2014 - 2017
Project status: Sold in 2017
URBAN LIVING LANDSBERG
DISTRICT DEVELOPMENT IN LANDSBERG, MUNICH REGION
Project type: District development
Description: On a large factory area in Landsberg (approx. 56`000 m²), a new, pretentious urban project will be created with a mix of modern and livily residential-, office- and retail-spaces, as well as social and cultural institutions over the next 5 years. Green spaces and places provide amenity value, and a direct connection over the Lech leads in walking distance from the new quarter to the Old City. Furthermore a sustainable energy strategy for resource-saving will ensure an innovative supply.
Project Duration: 2015 - 2025
Project Status: Construction stage
MITTEN IN MAISACH
REDEVELOPMENT PROJECT IN MAISACH, MUNICH REGION
Project type: Suburban densification
Description: In Maisach in the district of Fürstenfeldbruck, we have implemented a pioneering residential quarter of short distances. "Mitten in Maisach" is an ensemble with three residential buildings, retail and service providers for daily needs as well as a free-standing medical and office building directly in the center, within walking distance between the town hall and the S-Bahn.
Project duration: 2013 - 2018
Project status: Individual sale
SIMSON
NEW DEVELOPMENT IN TUTZING, MUNICH REGION
Project type: New building development
Description: On a partial area of the Business Area Tutzing, a triangular, identity-establishing building was created that houses a burnout clinic and a dance school.
Project Duration: 2014-2019
Project Status: Inventory
SCHWANTHALERSTRASSE 69
REFURBISHMENT PROJECT IN DOWNTOWN MUNICH
Project type: Refurbishment
Description: In Munich, we refurbished an office and commercial building in a central and dynamic environment: In Munich's Ludwigsvorstadt, not far from the main train station and the city center, post-war buildings have for years increasingly been extensively refurbished or replaced by new buildings. After successful refurbishment, the building was sold to an international family office.
Project duration: 2013 - 2015
Project status: Sold in 2015
KLEINER STACHUS
NEW DEVELOPMENT IN GERMERING
Project type: Greenfields development
Description: At the newly designed "Kleiner Stachus" in Germering, we have developed an ensemble of buildings that characterizes the local landscape. At the traffic junction of the district town in the Fürstenfeldbruck district, we set an urban accent with a striking, five-story office and commercial building. The building includes a daycare center and a shopping market on the first floor. The upper floors contain office space.
Project Duration: 2016 - 2020
Project Status: Inventory
GAUTINGER STRASSE 1C
NEW DEVELOPMENT IN STARNBERG
Project Type: New building development
Description: In the heart of Starnberg, we have developed an office and commercial building for upscale requirements. With its special facade concept, the new building characterizes its location at Gautinger Straße. Retail and gastronomy are located on the first floor, while the office units on the upper floors are ideally suited for modern office and communication concepts. In this way, we are promoting the sustainable development of the quarter into an attractive retail and service center. Thanks to the underground car park and its proximity to the North Station, the office and commercial building has perfect transport links. The property has since been sold.
Project Duration: 2015 - 2020
Project Status: Sold in 2020
MONSHEIMERSTRASSE
BUILDING PROJECT IN WORMS
Project Type: Conversion of a commercial property
Description: With the development of the Licht-Luftbad-Quartier on the former Rheinmöve-Areal in Worms, we have made it our task, together with the city administration and the citizens of Worms, to realize a lively urban quarter close to the city center. The predominantly residential environment is to be optimally complemented and sustainably upgraded by the development. In addition to the approximately 425 apartments, numerous commercial and retail spaces as well as a daycare center will be created in the quarter.
Project Duration: 2019- 2022
Project Status: Sold in 2022
RAMSTEIN BRODWAY APARTMENTS
CONSTRUCTION OF HOUSING FOR MEMBERS OF THE U.S. ARMED FORCES
Project Type: Construction for housing of members of the U.S. Armed Forces
Description: In Ramstein-Miesenbach, not far from Ramstein Military Airport, the former Broadway Cinema parking lot is being put to a new use. In 2022-24, 52 partially furnished apartments and 26 fully furnished apartments will be built on the property for members of the U.S. Armed Forces, doctors and nurses from the military hospital, U.S. government employees, service providers to the U.S. Armed Forces and members of other NATO member countries stationed in and around Ramstein.
Project Duration: Start in 2022
Project Status: Construction Stage
GEWERBEPORTFOLIO NÜRNBERG
PORTFOLIO MAINTENANCE
Project Type: Portfolio maintenance with rental potential
Description: In 2019, a portfolio of three commercial properties in Nuremberg was acquired. The aim is to reduce vacancies, address maintenance issues and secure further building potential on the properties under planning law.
Project Duration: Start in 2019
Project Status: Inventory